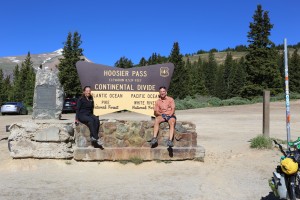 The day started with a 10 miles cllimb up to Hoosier
Pass, elevation 11539 ft (3517 möh), the highest point on the Transamerica trail and on our trip.
The day continued with a long distance on the bikes. When we arrived at Canon City the trip meter showed 173 km (107 miles), a new distance record for this trip.
Finally, even the accomodation cost turned out to be a new record (it was worth every dollar). We finished our day in the hotel whirlpool.
Now we have two days rest (that is a record too) in Canon City before we continue towards Pueblo.