In the last days we have passed over the highest point on our tour, visited the most scary B&B we ever seen (did not stay) and missed the whole 4-july thing.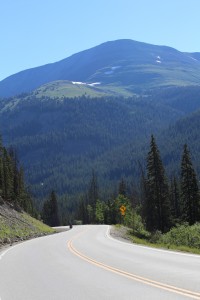 The last stretch from Breckenridge was supposed to be hard and we started at 7 in the morning with the idea to be up at noon. The planned strech was short this day. With no hurry at all we started gently and worked our way up. It took only two hours to reach the sign that market the highest point at Hoosier pass! We stopped for a well deserved break and of course some posing in front of the sign, to document our triumph, before going down towards Fairplay.
Doing well uphill gave us a lot of extra time and we decided to go longer than planned. Thats how we ended up in Guffey… We had talked to a couple of guys who described a very special place to us, but we did just not connect that place with the map descripion of the B&B in Guffey. We arrived in Guffey just when it was going to start rain. Thunderstorms were coming behind us and we were very happy to be in Guffey before the rain should start to fall on us. The problem was that we could not find the B&B. We biked through the village but no sign of any B&B. Almost in the end of the road just in the end of the village there where a lot of skeletons and other strange exhibitions. We had found the B&B! The guy who is running the place came out from his workshop gave us a key to a small building and said we could stay there if we wanted. We went up to the house cruising in high grass betwen some carcasses laying in front of the building. It was all very rustik but that was not a problem. It was more the idea of ​​having to grope among rotting carcasses in the dark of night on the way to the outhouse. One in our party thought it was ok (we have flashlights

) but one thought it was not. Despite the thunderstorm which now flashed uncomfortably close, we continued cycling.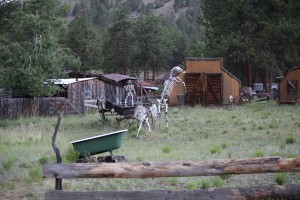 We have been "weather lucky" all this tour and so even this time. The thunder storm passed beside us, close but not over us and we could easily go all the way to Cañon City.
We made it through The rocky mountains and came down to Cañon City in one piece!
In Cañon City we had a reservation for two nights so that we could have a rest during the 4th of july. We also wanted to see the celebration of Independence Day. What we did not know was that Colorado is in a fire ban and that there where no fireworks in Cañon City. As a matter of fact there was not much of a celebration at all! We had a good time anyway. We took a fantastic tour into the royal gorge and just rested our tired leggs.
The days in Cañon City passed quickly and we continued to Pueblo. Coming into Pueblo felt like a phase was done and a new one started. Pueblo is also supposed to be the middle of the Transam Trail that we are following most of our journey. Many people we meet say that what we now are leaving are the most beautiful part. Well I hope there is still more to come and we look forward to go on flat ground for a while.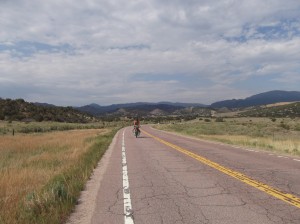 We are now changing from high altitude to high temperature. This is a new challenge for us to se how we can cope with the heat.