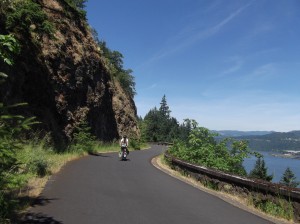 Tillbringar lördagkvällen i ett hett Umatilla. Bor på motel och njuter av luftkonditioneringen.
Trodde inte vi skulle längta efter moln och svalare väder.
Har cyklat längs Columbia River de senaste dagarna. Njutit av utsikten, medvinden, frukostar på "diners" längs vägen och trevliga människor (good luck on your trip to Iowa. Ivor and Erica).
Även om vi klagar på på väder och backar så har vi det riktigt bra.